Significant Letting to the Amtek Group in Worcestershire
Stourport Road, Kidderminster, Worcestershire, DY11 7QE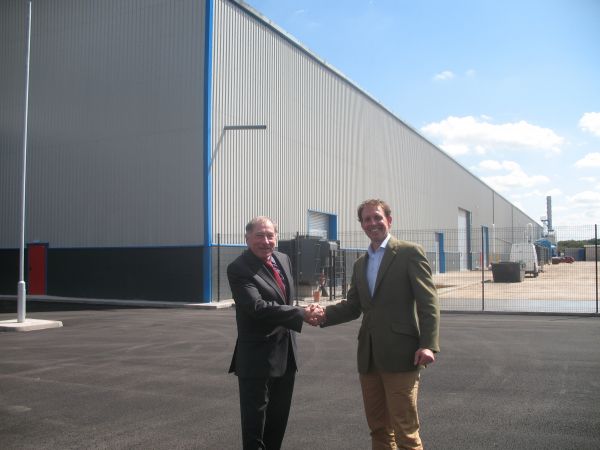 Task
Leasehold Disposal - marketing, disposal strategy and lease negotiations.
To provide market analysis in relation to the redevelopment and subsequent letting of a former waste recycling plant at Stourport Road, Kidderminster.
The property is located on the eastern side of the A451 being the main arterial route between Kidderminster and Stourport, in an area comprising a mix of industrial and office uses, popular with a wide range of commercial occupiers. Kidderminster Town Centre and Railway Station is approximately 2 miles to the north and Stourport-on-Severn Town Centre located 1 ¾ miles to the south. Birmingham City Centre is approximately 23 miles northeast, Worcester 13 miles south, and Wolverhampton 18 miles to the north.
Before acquisition of the site by developer clients, a site meeting was initiated to fully consider the viability of redeveloping the 14.41 acre site which included almost 130,000 sq ft of redundant building.
The land was fully enclosed by a high security fence and contained a steel structure which had an exceptionally good headroom producing an eaves height of 52'6" and frame capable of supporting heavy overhead cranes, in addition there was the benefit of a high voltage electrical supply, minimum 4.5 MVA. All features considered would be beneficial which subsequently turned out to be the case.

Following initial advice and discussions, the developer client embarked upon a programme of redevelopment, removing debris, stripping the existing structures back to the heavy duty steelwork, recladding the walls and roof, installing services and so on, to eventually provide a high-bay warehouse/industrial unit in the order of 130,000 sq ft on part of the site extending to 7 acres or thereabouts with view to the agents identifying a suitable occupier who could make use of the facility. Marketing was then commenced, together with regular on-site meetings to review progress.
Approach
During the initial stages of site preparation works, discussions took place with the Local Planning Authority which also involved local Councillors.
The marketing undertaken, whilst cost effective, was extensive with substantial enquiry boards placed on the prominent site frontage, approaches to applicants known to be seeking premises followed by local, regional and national press advertising, the preparation of a digital PDF and printed brochures with extensive circularisation to industrialists, locally, regionally and nationally. Internet marketing was undertaken and with details also circulated by email to other major national and local industrial property agents for potential consideration of their clients.
The marketing approach had the desired effect with a number of inspections following and continued interest from various parties including Amtek Aluminium Castings, the eventual tenants.
Following various site visits and meetings with the eventual tenant and their surveyors, a letting in principle was agreed with Amtek, comprehensive Heads of Terms prepared between surveyors and solicitors instructed to progress documentation. As the letting would attract high value advanced manufacturing and create a significant number of new jobs for Kidderminster, an approach was immediately made to the local Member of Parliament, who together with other local politicians proved to be most enthusiastic and supportive in the process and encouraging Amtek to locate at the Stourport Road plant.
Major factors in agreeing terms and attracting Amtek to Kidderminster was the exceptional eaves height available within the building, the possibility of 30,000kg cranes and the extensive electrical power supply available. Having identified the tenant in the early stages, it proved possible to incorporate specific requirements and timings in the development and planning process.
In consultation between the parties, the landlords architects submitted the application for detailed planning approval for the Amtek use, whilst at the same time solicitors continued with the legal documentation. Planning approval was obtained and agreement to lease agreed and completed and major redevelopment works advanced eventually to be completed in June 2015.
Once development works had concluded, a measured survey was undertaken confirming the building extended to 131,000 sq ft or thereabouts on a site of 7 acres, approached from 5 new, electrically operated roller-shutter doors and now comprises a substantial industrial/warehouse unit of steel-framed construction, which having undergone complete rebuild/refurbishment provides a single storey unit in two bays, together with three storey brick built office and ancillary accommodation.
The building has an eaves height order 16 metres (52' 6"), and benefits from an electrical supply; minimum 4.5 MVA, two new 30,000kg cranes, and two new 20,000kg cranes. Low energy lighting is installed throughout the industrial area.
Externally, the site is enclosed with a high security fence, and approached from an electrically operated sliding entrance gate with entrance barrier and also gatehouse to the rear thereof. Roadways are concrete and tarmacadam and the property benefits from a weighbridge, good loading and lorry parking, 103 car spaces, and a cycle store for 24 bicycles. In addition, external lighting is provided.
Outcome
Following completion of the extensive refurbishment work the property has been let to Amtek Aluminium Castings (Witham) Ltd. The lease is of a full repairing and insuring nature of 15-year duration and incorporating upward only rent reviews at 5 yearly intervals. The initial rental is £540,000 per annum exclusive.
Amtek Aluminium Castings (Witham) Ltd are part of a substantial global organisation and they are involved in the manufacture of high pressure aluminium castings for the motor industry.
The Amtek Group, headquartered in India, is one of the largest integrated component manufacturers in India with a strong global presence. It has also become one of the world's largest global forging and integrated machining companies. The Group has operations across Forging, Iron and Aluminium Casting, Machining and Sub-Assemblies. It has world-class facilities across India, UK, Germany, Brazil, Italy, Mexico, Hungary and US. The Amtek Group is comprised of corporate entities Amtek Auto, JMT Auto, Amtek Global Technologies and other subsidiaries and associates. With the infrastructure and technology platform developed over 25 years, the Group is well positioned in the Indian Auto and Non-Auto component markets. Source – www.amtek.com
At the time of the transaction, the then Wyre Forest Council Cabinet Member for Economic Regeneration; John Campion, welcomed the arrival of Amtek as a "real game changer for our local economy".
He added: "It sends out a hugely positive signal to the market that Wyre Forest is truly open for business."
"We anticipate that an inward investor of this calibre will act as a catalyst for further investment and growth into Wyre Forest, firmly positioning Kidderminster as a 'go to' location for automotive supply chain companies".Wyre Forest MP Mark Garnier said "This is certainly improving news for our area".
"This shows that all of the hard work that we do locally to combat unemployment is working".
He added that the arrival of Amtek was "incredibly good news".
He added: "This is exactly the type of manufacturing that works well in Wyre Forest and the West Midlands and it's a much better use of that site. We must help this company by finding a local skills base".
Amtek's Chief Operating Officer described Kidderminster as an "ideal fit for the new plant".
Source of the comments referred to above: The Kidderminster Shuttle.
Initial instructions were received very late 2013, marketing commenced in early 2014, negotiations undertaken and terms of the letting agreed in early/mid-2014, with completion of works and lease commencement in early summer 2015.