Mixed Use Commercial Investment SOLD in Cannock
Old Hednesford Road, Cannock, Staffordshire, WS12 1LU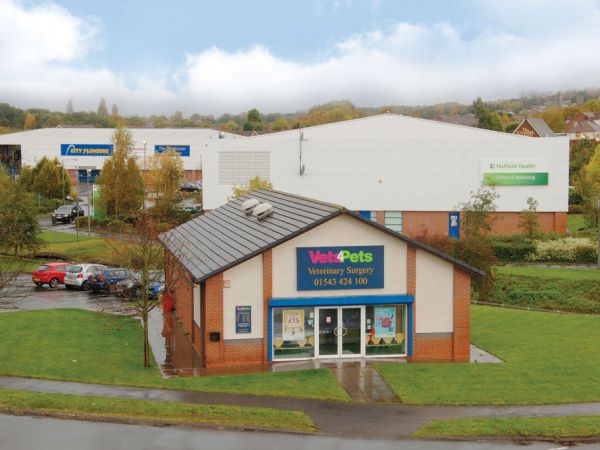 Task
Investment Disposal - Advice, Marketing Strategy, and Negotiations
White Rose upon behalf of private retained clients are pleased to announce the sale of the above mentioned well secured freehold commercial investment property.
The property comprises three detached units with a total floor area of 37,606 sq ft (3,494 sq m).
Unit 1, the veterinary surgery, is to the south of the site and comprises a single storey building with concrete floor, brick walls and pitched tiled roof. The unit was constructed in 2006 and has 13 dedicated car spaces.
Unit 2, comprises a prominent purpose built health and fitness club over ground and first floor levels and constructed in 2001. The ground floor provides a reception area, cafeteria, a 20m swimming pool, sauna, steam room and associated changing facilities. The first floor level provides a mix of gymnasiums, fitness areas and treatment rooms. Externally there are 156 car parking spaces.
Unit 3, is a single storey, steel framed warehouse unit constructed in 2005 with an eaves height of 20ft 9 ins (6.3m). The unit is currently used by City Plumbing as a trade counter. To the front and side of the unit there is car parking for 20 cars.
Approach
The principal investment characteristics are as follows:
• The property is located in Cannock which benefits from excellent road communications and a population of 450,000 within a 20minute drive.
• A site totalling 5.1acres. (2.1 hectares).
• Freehold.
• Modern purpose built units providing a total of approximately 37,600 sq ft, comprising a health & fitness unit of 25,620 sq ft, a B8 trade counter of 10,080 sq ft and a veterinary surgery of 1,906 sq ft.
• Let to three tenants : Nuffield Health, City Plumbing & Vets 4 Pets.
• The property produces £365,176 per annum exclusive.
• A WAULT to expiry of 35 years and a WAULT to break of 12 years.
Outcome
After a period of marketing and negotiation, the estate was sold to Otium Real Estate. Otium Real Estate is a property investment company focused on the commercial leisure real estate sector.
Joint Agent – Stockford Anderson